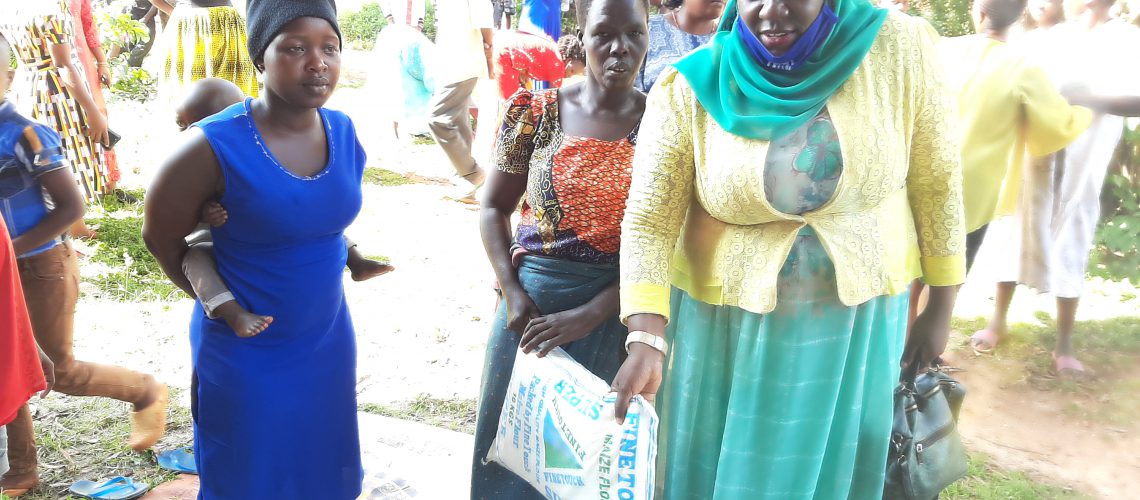 "Rejecting the inevitability of poverty": Empower women at grassroots levels for sustainable livelihoods
Women are already a powerful force for growth in Africa. They are economic actors, workers, property owners, and entrepreneurs. Recognizing this fact is the first step to ensuring that women have fair access to the labor market, enjoy full rights to own property, and do not face even greater barriers to doing business than men do. Uganda is a leader in Sub-Saharan Africa in recognizing linkages between economic growth and gender issues. These linkages are critical for achieving a variety of development goals: A recent World Bank study suggests that the country could gain as much as 2 percentage points of GDP growth a year by eliminating gender inequality. The Government of Uganda's Poverty Eradication Action Plan 2004 indicates that a one-time benefit of up to 5 percent of GDP could be realized.
The 1995 Constitution of Uganda provides for; equality between men and women (Article 21) affirmative action to address any imbalances (Article 32), equal opportunities for men and women to realize their full potential (Article 30 and 32), participation in decision making (Article 78 and 180), more equitable access to and control of productive resources (Article 26, 27) and the right to vote (Article 53). Furthermore, the Constitution outlaws all customs and practices that negatively affect the status and welfare of women (Article 33). The National Development plan (11) was to propel the country into Middle Income Status by the year 2020. This has been re-echoed in the newly NDP (III) that has recently passed by parliament with a goal of 'Strengthening Household Income and Improve the Quality of Life". This re- affirms the Subject on this article the '15 Household Model'.
At the Women's Council leadership in 2018, His Excellency, the President underlined the following: (i) The need for economically independent Women, (ii) The need to ensure enrolment and retention of children in schools; and (iii) The need to nurture children and young people into responsible and patriotic citizens. His Excellency the President looked at three key things that are key subjects in a normal household and can affect the whole nation if not taken into consideration with proper strategies.
To address these gaps, the National Women's Council 5-Year Strategic Investment Plan (2018/19 – 2022/2023) proposed the 15 Households Model as mentioned above that ensures that the Women Council structures are effectively utilized as channels of mobilization of grassroots women and households.
This model has goal is socio economic empowerment for women and household with main focus in Women Council leaders involved in mobilization and sensitization of women and households for socio-economic empowerment; promote education for all, the nurturing of children and young people into responsible and patriotic citizens; promote the Women's Council Structure as a channel through which Government and Development Partners can reach households; to increase the visibility and uptake of Government Programs at household level; to promote skills development with the intention of sustaining women empowerment efforts at grassroots level; and to support the implementation of the 5 year Strategic Investment Plan of the National Women's Council.
These objectives are in line with the Social and Economic Objectives of 1995 Constitution Chapter 4. Through the Model, each of the five (5) Women's Council Executive members, at village level, are charged with mobilization, sensitization and overseeing fifteen (15) Households. This model is used to mobilize women and Households to access development information, skills, and tap into resource systems of Government and development partners.
According to the gaps of the model, a household carries serious social problems that if not attended to will affected the well-being of the Nation at Large. This gaps are the key drives to poverty and other social risks that affect the wellbeing of a household. Mitigation factors are to be enabled to address them. The key gaps the 15 Household model has strived to address are in Skills Development for Women's Socio-Economic Empowerment, Advocacy for Women's Access, Control and Ownership of Factors of Production, Increase Food, Nutrition and Income Security, Women's Active Participation and Uptake of Climate Change Initiatives, Access to Safe Water, Sanitation, Hygiene and Health, access to education and good practices in nurturing and early Childhood Development, Gender Equity, Equality and Women's Empowerment, Women's Rights in Leadership and Decision-Making. The National Women Council Secretariat has taken initiative through creation awareness, training of the NWC Women leaders to advocate and promote the 15 Household Model in a bid to close the gaps, working close with Uganda Women Entrepreneurship Program (UWEP) for purposes of skills development and social economic empowerment for women.
The model has a unique feature of reaching out to over 4,500 households in Uganda in one year which has already commenced. In five years a total number of 9,361,702 households will be reached in advocacy for objectives of the "15 Household Model